Dental Crowns & Bridges in Plymouth, MA
A crown is like a helmet placed over a weakened tooth providing you with the strength of a natural tooth. Best part is — we can even make it look like your natural tooth!
Ceramic Crowns & Caps
The terms dental crowns and caps are synonymous. If dental decay, cracked fillings, deep abcesses, clenching or grinding the teeth have caused extensive damage to the underlying tooth structure a dental filling may not be a sufficient restoration. The only way to completely restore the cosmetic appearance and function of this tooth is often full coverage with a dental crown.
In addition to restoring a single natural tooth, crowns can be used in other situations including being the supporting ends of dental bridge, covering dental implants, or as coverage for a cracked tooth to prevent further breakdown. A crown may be also be indicated when a discolored or stained tooth needs to be restored to its natural appearance. Crowns can be made of either of porcelain baked onto a metal substrate, all-porcelain, or many of the new ceramic materials that have been developed.

What Makes Us Different?
You're in great hands with Dr. Sheng. She has received awards including the Dr. Remo Sinibaldi Award from the Boston University Goldman School of Dental Medicine for her outstanding achievement in fixed and removable prosthodontics, crowns, bridges and dentures.
We carefully color-match the crown to your tooth's unique shape and color. The porcelain or ceramic crowns is hand-crafted carefully by certified dental technicians (CDT) to make your dental restorations as lifelike and comfortable as your own natural teeth.
Bridges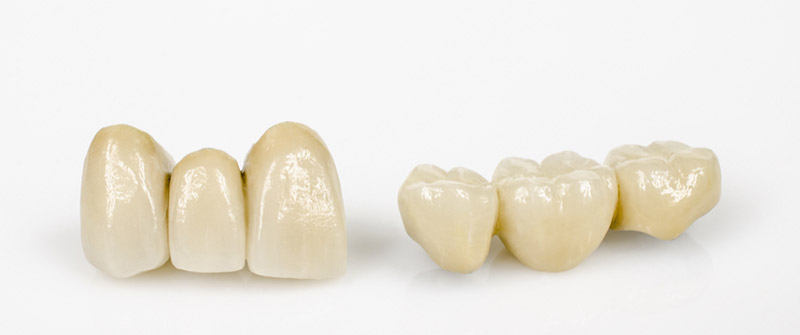 When teeth are missing your overall dental health and jaw function may be gradually compromised. The adjacent teeth may start to drift or tilt into the space, and teeth in the opposing jaw may start to shift toward the area of the missing tooth. It is therefore important to replace the single tooth or multiple teeth that have been lost. One of the best options to prevent teeth from shifting and to restore full function to a small edentulous section in the mouth is a dental bridge.
A dental bridge replaces the missing teeth with artificial teeth called "pontics," and is supported on the ends by prepared natural teeth. Once fabricated and fitted a dental bridge will be permanently "fixed," or cemented into place. Like crowns, bridges can be made of either porcelain baked onto a metal substrate or many of the new ceramic materials that have been developed.